Amidst today's growing challenge to food security, the role of the private sector in providing extension services is one of the key factors to enhance farm productivity through showcasing need-based and location-specific farming strategies and agricultural enterprise. Thus, the certification of Learning Site for Agriculture (LSA), and accreditation of Private Agriculture and Fisheries Extension Service Provider (PAF-ESP) can be considered an effective modality of the Agricultural Training Institute (ATI) if it has put in place all these farm requisites and effectively dealt with the underlying causes of farm productivity in the agriculture: farmer to agripreneur, monocrop to integrated farming system, pure farm production to farm tourism and unproductive farmer to productive agripreneur.
---
Certification of Learning Site for Agriculture (LSA)
The certification of LSA aims to contribute to the improvement in productivity and profitability of the less developed but resource-rich farming/fishing communities and the non-farming rural community members engaged in agri-processing enterprises by harnessing their full potential.
Learning Site for Agriculture I
The LSA is a farm that practices applicable agricultural technologies, employs doable farming strategies, and operates successfully, thus, worthy of emulation. The farmer/farm family is relatively advanced compared to the rest of the farmers.
Anchored on the agriculture value chain, the LSA also includes a successful agri-processing enterprise owned by a processor who is not necessarily a farmer/farm family. The agri-processor, together with his/her processing enterprise, focused on the processing of agricultural products for the non-farming community members to learn from.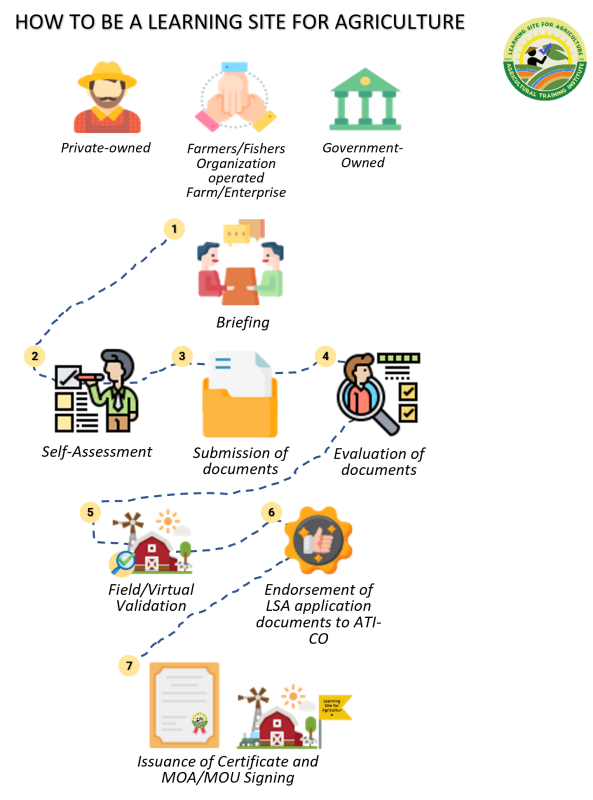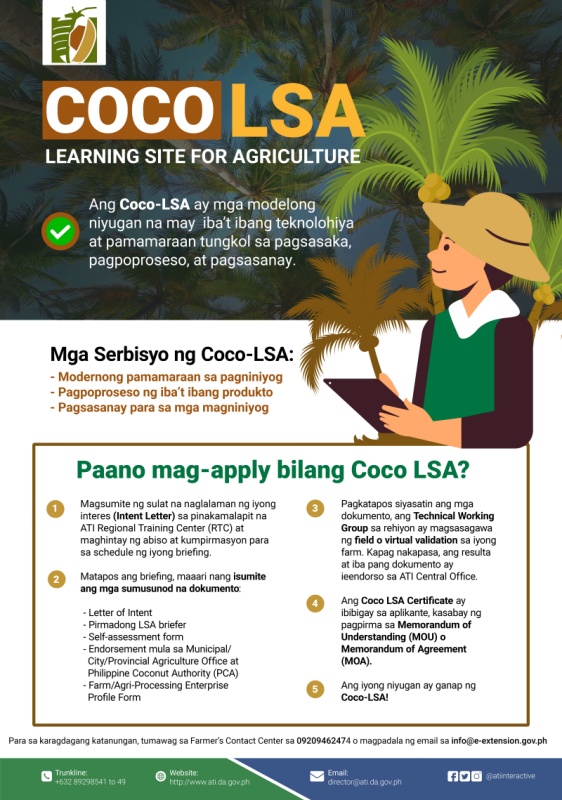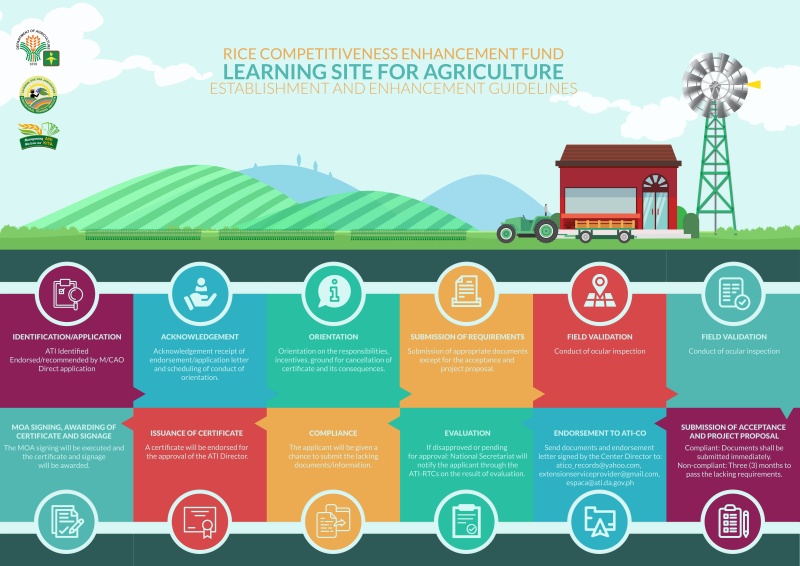 Learning Site for Agriculture II
The Farmer/Farm Family is referred as Farmer-Trainer. The activities covers the value chain approach from production, processing/value adding, packaging and successful marketing strategies. They have functional facilities needed to undertake live-in training and extension activities such as classroom with training equipment.
A model that showcases the development of an ordinary farm to an agribusiness farm which would redound to increase farm income, proving agriculture as viable and productive livelihood and source of income, and the benefits of value-adding through agri-processing.
---
Accreditation of Private Agriculture and Fisheries Extension Service Provider (PAF-ESP)
The accreditation of PAF-ESP aims to hasten and improve the delivery of agricultural and fisheries extension services to the farmers, fisherfolk, indigenous people (IP), agrarian reform beneficiaries, and other stakeholders in support of the thrusts of R.A. 8435 and R.A. 11511.
The accreditation shall apply to the following institutions/organizations that offer agriculture and fisheries extension programs: 
a. Farmer' and fisherfolk's Cooperatives and Associations including ARB Coop, Network of Learning Site for Agriculture;
b. Non-Government Organizations (NGOs) including Faith-based Organizations and other related Foundations;
c. People's Organization (PO) including RBOs, LSA/SPA Associations, ARBOs, and IPOs;
d. Private/Business Sector including Multinational Companies and e-Learning institution.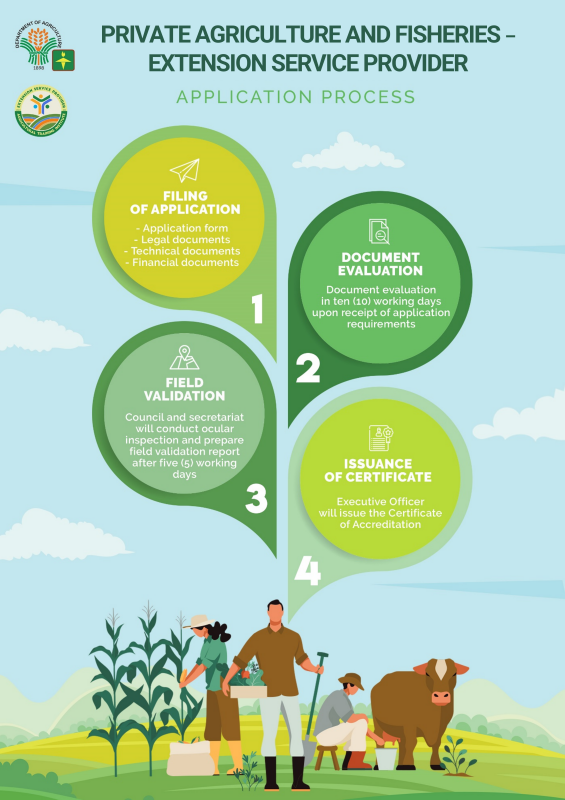 Click this link for the list of: Accredited Learning Sites, and Extension Service Provider.
 
Downloadable Forms: