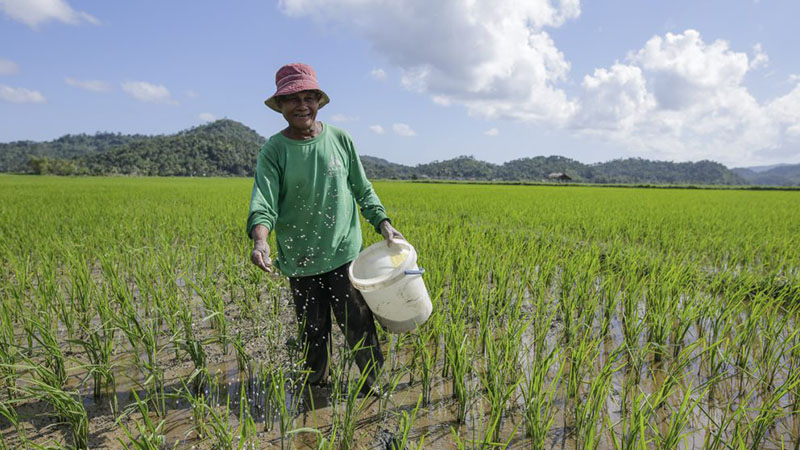 DILIMAN, Quezon City—To help minimize production costs in rice farming amid the rising prices of fertilizer, the Department of Agriculture (DA) is campaigning for the combined use of inorganic and organic fertilizers.
Under its program on Balanced Fertilization Strategy (BFS), DA bureaus and attached agencies, led by the Bureau of Soils and Water Management (BSWM), are promoting "Abonong swak (Swak sa budget, swak sa palay)" recommendations to help rice farmers find cost-efficient and sustainable ways of using fertilizer.
"BFS is a method of fertilizer application that highlights the importance of using organic fertilizer in combination with inorganic fertilizer. Inorganic fertilizer addresses the nutritional needs of the crop, while organic fertilizer maintains the health and longevity of the soil," BSWM Assistant Director Gina Nilo said in a teleradyo interview.
Three "combo" options or protocols were developed depending on palay variety and target yield (3-4 tons, 5-6 tons, and 7-8 tons, respectively). Under these options, recommendations for the right nutrient, right quantity, right method, and right timing were identified.
"This would be very helpful. If we adopt these combo recommendations, it can save us as much as Php2,000 to Php4,000," Nilo stressed.
Under these protocols, organic fertilizer such as rice straw, chicken manure, and vermicompost can be used during land preparation. According to Nilo, this will help sustain soil fertility and increase its nutrient-holding and water-holding capacities.
Meanwhile, Nilo emphasized the importance of right timing in the application of inorganic fertilizer such as urea, 14-14-14, and 16-20-0 fertilizers that are available commercially.
"Based on our studies, using huge amounts of inorganic fertilizer is not advantageous because the crop can only absorb nutrients at about 35 percent to 45 percent," the BSWM exec explained.
Nilo's interview on the BFS recommendations was aired on DZRH last March 26 during the 57th episode of "Agri Asenso". The teleradyo program is hosted by radio broadcaster Henry Uri and Agricultural Training Institute OIC-Assistant Director Niet Arceo.