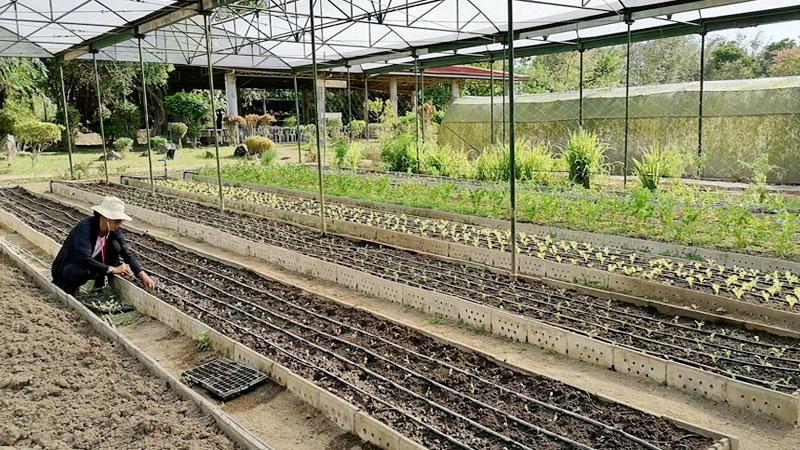 DILIMAN, Quezon City—Rainwater collection and drip irrigation are only some of the ways that Sanctuario Nature Farms does to save water and maintain sustainable agricultural practices.
In a radio interview, farm managers Kathy and Clifford Ballesteros talked about their do-it-yourself setup for rainwater harvesting using multiple plastic drums. The small-scale system that they have can collect volumes of rainwater from rooftops.
According to Clifford, the stored rainwater can be used to water plants especially because of its high nitrogen content coming from decomposed animal droppings on the roof.
Meanwhile, their drip irrigation system serves as an efficient way to manage water distribution for the plants, especially in their vegetable production area.
"Using drip irrigation helps us save water. It allows water to really penetrate the soil, so every drop goes to the crop," Kathy said.
Instead of using a pump, the farm's drip irrigation system is a gravity-type setup where water is directed into the tubing through natural water pressure. Because of this, buying gasoline for a pump is no longer necessary and expenses in the farm can be reduced.
"To start a drip irrigation system, you may have to spend as low as Php1,500 per plot. This may be a lot at first, but this is already for lifetime use. You just have to make sure that it is well-maintained," Clifford stressed.
Aside from these water management practices, the couple also plans to use solar energy as a sustainable source of electricity in the farm.
The Ballesteros couple's interview about the eco-friendly practices in Sanctuario Nature Farms was aired last April 2 during "Agri Asenso" on DZRH. Individuals interested in these practical agriculture technologies are welcome to visit the farm in Indang, Cavite.
Sanctuario Nature Farms is a Learning Site for Agriculture certified by the Agricultural Training Institute. It offers "pick-and-pay" services for fresh vegetables, fruits, and herbs and also produces native pigs, free-range chickens, goats, and ducks.
The farm will soon be open for tourists and wellness activities will also be available for guests, such as yoga and pilates.