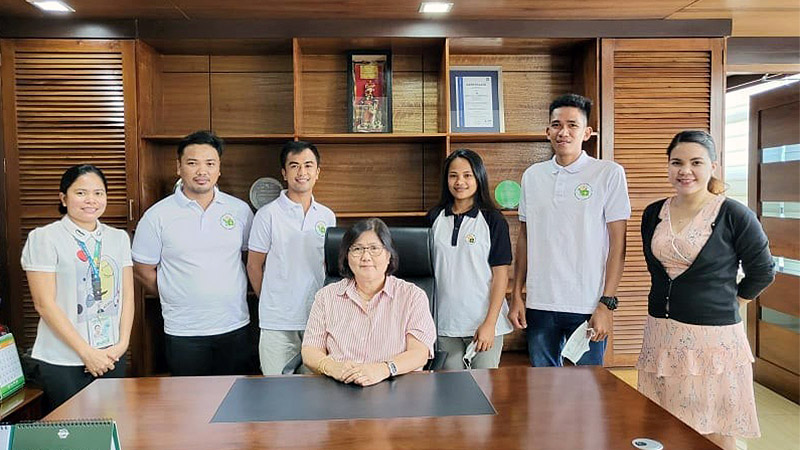 DILIMAN, Quezon City–Four young farmers who are part of this year's batch of Young Filipino Farm Leaders Training Program in Japan (YFFLTPJ) were sent off last April 22, 2022 to learn new techniques from Japanese farmers. 
These young farmers came from Kalinga, Albay, Siquijor, and Basilan. Prior to their flight, the trainees completed their 120-hour virtual Nihongo Language class (via Zoom) last year, as part of the classes under the Pre-departure Orientation Course (PDOC). 
They were also briefed by Agricultural Training Institute (ATI) Director Rosana Mula and staff of the Partnerships and Accreditation Division. Before their departure, they also met with ATI OIC-Assistant Director Antonieta Arceo. 
Rexina Lappao from Kalinga province expressed her gratitude for having the opportunity to go to Japan and participate in the training program. She also shared how the PDOC helped them have the right mindset and attitude in preparation for the training.
"We learned lot and it motivates us to discipline ourselves. Our Nihongo class was challenging but, with the help of our teachers, we learned how to make basic conversation," she said.
She also thanked ATI staff for their assistance during the PDOC which was conducted in the height of the community lockdowns against COVID-19.  
"We thank the staff of ATI for not giving up on us so that we can have this opportunity that every young farmer dreams of having," she added.
As part of the pre-departure protocol, the trainees underwent a series of medical and neuropsychological examinations as well as swab tests.
The YFFLTPJ is a yearly training program managed by the ATI, in cooperation with the Japan Agricultural Exchange Council (JAEC) and the Japan Ministry of Agriculture Forestry and Fisheries (MAFF). It is aimed at developing young Filipino farmers to become farmer-leaders and agricultural entrepreneurs.