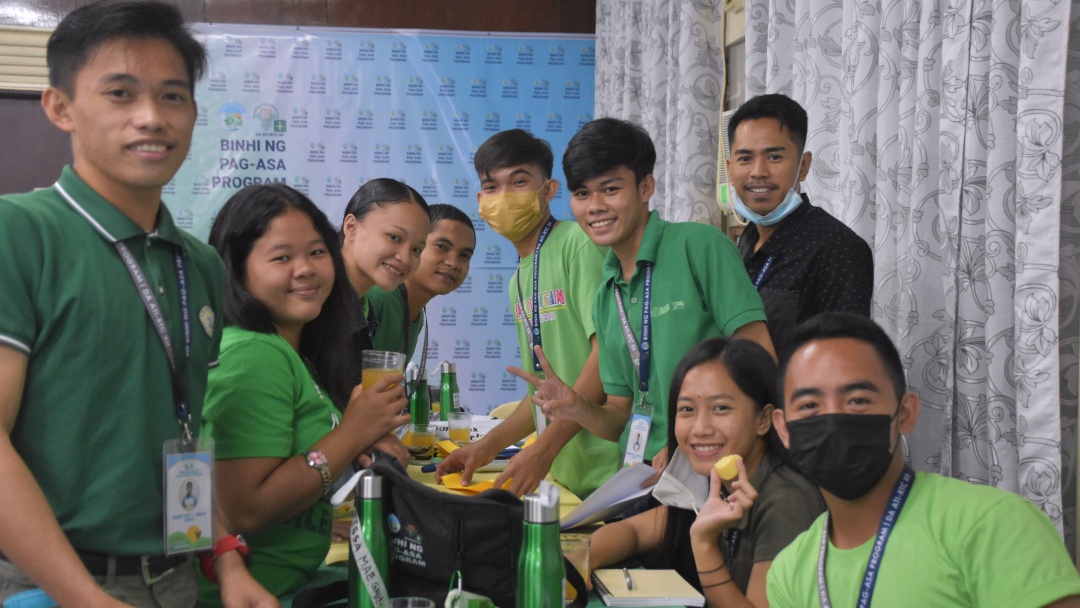 After the successful implementation of the Binhi ng Pag-asa Program (BPP) series of trainings in six (6) provinces, a total of 270 youth are now allies of the Department of Agriculture's Agricultural Training Institute (DA-ATI) in the development of the agriculture and fisheries (A&F) sector. These graduates are from the nine (9) batches of province-level trainings that were simultaneously conducted in Batangas, Oriental Mindoro, Camarines Norte, Iloilo, Zamboanga Sibugay, and North Cotabato from July to August 2022. 
The BPP aims to empower the youth by strengthening their leadership and values, as well as enabling them to become agripreneurs through localized trainings, and provision of extension support and A&F starter kits, among others. The program is a collaboration between the ATI and the Office of Senator Grace Poe (OSGP).
In her video message for the participants, ATI Director Rosana P. Mula, PhD. expressed, "I know many of you have the spirit to make things happen. That is why we have given you this opportunity to develop your knowledge and skills to become competent agripreneurs, and even leaders."
As such, these provincial trainings on leadership and agripreneurship involved lectures on packaging, labeling, and basic farm record-keeping by selected subject matter specialists. It also included sharing of best practices and innovation on urban gardening and hydroponics by some provincial agriculturists and veterinarians. Likewise, discussions led by representatives of the OSGP and some graduates of the National Training of Trainers (TOT) on Leadership about the National Socio-economic Situation of the Philippines; Agricultural Policies authored or co-authored by Senator Grace Poe; Leadership and Values Formation; Agripreneurship; and Social Media in Farming were also incorporated in the training course. Furthermore, there were also technology demonstrations and farm tours in different Learning Sites for Agriculture (LSAs) to enriched and reinforce the participants' knowledge and skills.
Some of the participants shared their appreciation for the trainings. For instance, according to Mr. Aljon Grande from the Iloilo batch, the resource speakers enlightened him with a lot of ideas on farming since he only knows some basic and some of the points discussed were new to him. He said, "As a young leader or a young farmer, this training will lead me to share and inculcate ideas to our local farmers." 
Accordingly, apart from re-echoing what they learned, these young farmers are also expected to apply their learnings by venturing in production of free-range native chicken, swine, goat, duck, and organic vegetables, among others. Specifically, ATI-MiMaRoPa Center Director Pat Andrew Barrientos said that the trainees are expected to prepare project proposals or re-entry plans for their own agri-enterprise. He added, "Each of you will be granted with Php11,000 worth of inputs as after-training support to start your endeavor. Though relatively small, this amount will grow eventually with the help of this training."
The series of provincial trainings is one of the capability-building activities of the BPP that targets 360 young people from the eight priority provinces this year. To achieve this, another three (3) batches of training is set to be conducted in September 2022 by ATI's Training Center in Central Luzon.