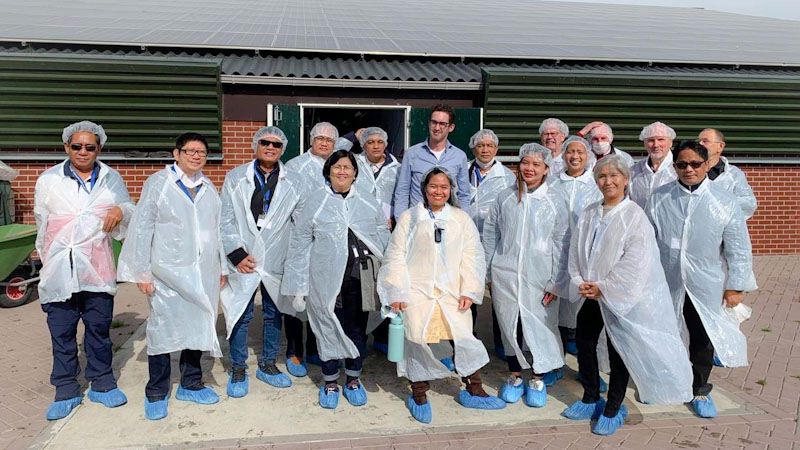 QUEZON CITY, Philippines – Twelve (12) representatives from the Philippines' Department of Agriculture (DA), non-government organizations, and state universities and colleges explored Netherlands' hog industry and solid waste disposal management during a learning visit on April 12 to 25. 
The delegation is composed of the following team of experts:
Dr. Rosana P. Mula, Director of the DA-Agricultural Training Institute (ATI);
Dr. Rene Santiago (Center Director) and Ms. Florina Farma of the ATI-International Training Center on Pig Husbandry (ITCPH);
Dr. Ruth Miclat-Sonaco of the DA-National Livestock Program (NLP);
Engr. Reymer Martinez of the DA-Bureau of Animal Industry (BAI);
Congressman Rico Geron and two representatives of the Sorosoro Ibaba Development Cooperative (SIDC), Mr. Marcelino Capuno and Mr. Enrico Libuit;
Mr. Pedrito Kalaw of the United Batangas Swine Raisers Association (UNIBAT);
Ms. Eva Ilagan of the Batangas State University – Lobo Campus;
Dr. Yancy Waminal of the Tarlac Agricultural University (TAU); and
Dr. Geoffray Atok of the University of Southern Mindanao (USM).
The visit is a component of a memorandum of understanding between ATI-ITCPH, SIDC, and Programma Uitzending Managers (PUM) signed in 2020 for a project that aims to establish an innovative and replicable swine waste management facility in Batangas. PUM is spearheaded by Program Manager Jo Voet.
Through the PUM, the business link was conducted to introduce Filipino delegates to Netherlands' hog waste management technologies and solutions, as well as connect with potential Dutch enterprises.
With the ongoing global problem of access and high cost of fertilizers,  ATI Director Mula believes that hog manure can be an alternative source of agricultural inputs for nutrient management.
"With proper management, it (hog manure) can be used as fertilizer since manure is rich in nitrogen and phosphorus with some amount of potassium," she said.
As the capacity builder, knowledge bank, and catalyst of the Philippine agriculture and fisheries extension system, the ATI's role in the project is significant for spreading awareness on proper waste management technologies and solutions as alternative sources of agricultural inputs.
Philippines' swine waste management
The hog industry is one of the country's major economic contributors to the agricultural sector, accounting for 16.67 percent of production output in 2018.
With the rapid growth and concentration of swine raising, waste disposal has become an environmental (i.e., greenhouse gas emissions, surface water eutrophication, and groundwater contamination) and health concern.
Most swine farms in the country, particularly smallholder farms, generate untreated and ill-disposed wastes that are flowed into waterways (Catelo and Narrod, 2008). As cited by the World Bank, a farm survey by Catelo, Dorado, and Agbisit (2001) showed that 80 percent of the backyard and small commercial farms in Majayjay, Laguna deposited their waste products in nearby creeks and rivers.
Sustainable, waste-free hog raising
To support the Clean Water Act of 2004 as well as other policies and regulations, the ATI-ITCPH,  SIDC, and PUM partnered to introduce a program that will promote sustainable and waste-free hog raising in Batangas and possibly, nationwide. SIDC is the leading agri-based cooperative in the country.
As a country with high livestock density, the Netherlands has developed mechanisms to handle and distribute manure effectively and environmentally soundly. Since 2014, all farmers are obliged to process their surplus manure to be transported to European Union regions with a shortage in fertilizers.
To adopt the technologies and practices of the Netherlands on swine waste management, the Filipino delegates visited various enterprises, a pig farm training center, the Wageningen University and Research, and the Ministry of Agriculture, Nature and Food Quality.
The delegates were exposed to manure management and processes, involving storage, valorization, treatment, transport, and laboratory solutions, among other things. They were also introduced to innovative hog pen designs – a necessity that needs to be adopted to assure quality manure.
ATI Director Mula shared, "We need to educate hog raisers to separate urine and solid waste. To start, there is a need to have a proper design of the pig pens."
The team produced an action plan to start the trial in Batangas.