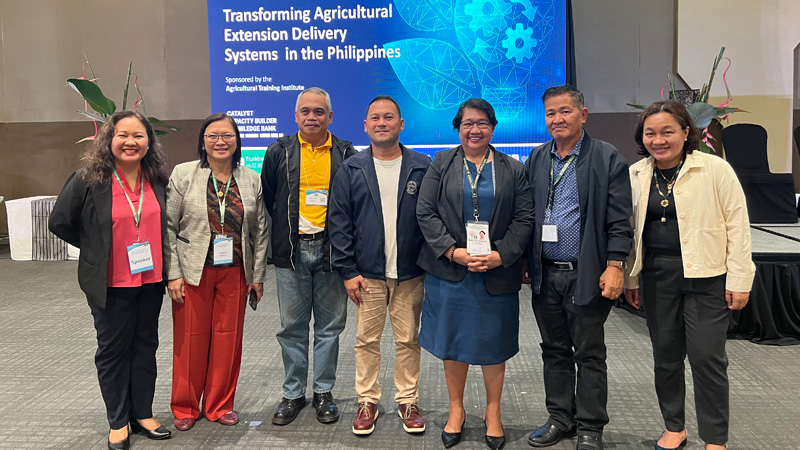 DAVAO CITY—At the 10th Philippine Association of Agriculturists (PAA) National Congress and 2023 Philippine Agriculturists Summit, Agricultural Training Institute (ATI) Director Remelyn Recoter delivered a presentation on "Transforming Agricultural Extension Delivery in the Philippines."
Two of the ATI's development partners, Greggy Saljay from GBS III Agro Farms in Pigcawayan, North Cotabato and Municipal Agriculturist Gemma Cania from Manolo Fortich, Bukidnon, also presented their best practices.
Saljay shared his farm's journey and experiences in becoming a conduit for delivering various agricultural extension services as an ATI Learning Site in Region 12. His story serves as an inspiration and model for other farmers and stakeholders who aim to play a significant role in advancing agricultural extension services in their areas.
On the other hand, Cania took the opportunity to share the successful implementation of the Farm Business School in their municipality. Her insights and experiences provide valuable lessons for others looking to improve agricultural practices and business in their respective regions.
The event attracted delegates from various ATI network training centers nationwide. It reflects the importance and collaboration within the agricultural community, promoting innovation and knowledge sharing in the field of agriculture.
Overall, the ATI-sponsored session at the PAA National Congress and Agriculturists Summit signified a crucial platform for discussing and fostering advancements in agricultural extension services in the Philippines.
The summit was held on July 24-28 at the SMX Convention Center in Davao City, Davao Del Sur.