MIAGAO, Iloilo—The Department of Agriculture, through the Agricultural Training Institute (ATI) and the Bureau of Soils and Water Management (BSWM) piloted this year's National Training of Trainers on Basic Leadership and Technical Skills for Small Water Irrigation System Association (SWISA) Officers and Agricultural Extension Workers (AEWs) last March 21-25, 2022 in this municipality.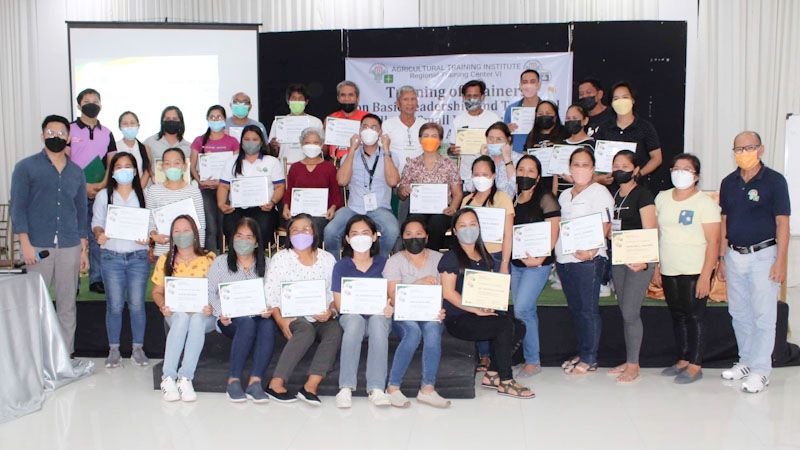 It is a 5-day training, intended for 25 SWISA Presidents and AEWs of Visayas Cluster (Regions VI, VII, and VIII). It was primarily conducted to improve their knowledge and skills on institutional development for the sustainable small water irrigation projects (SWIP) of the Department.
ATI Director Rosana P. Mula said, "The major goal of this training is to capacitate the SWISA Officers and AEWs to become trainers and facilitators of extension services who will then serve as conduits of knowledge and skill for the benefit of the farmer-members."
"As much as possible, we want to equip all irrigators' associations and its members on technical knowledge and skills that will optimize the use of small water impounding projects, diversion dams, and other SWIP of the DA that induce agricultural productivity" Director Mula added.
Participants who have completed the training will serve as lead extension service providers in their respective areas to ensure cohesive and sustained operation, and maintenance of the irrigation system among the farmer-beneficiaries.
According to the DA-BSWM Director Pablo Montalla, the limited capability and experiences in managing, organizing, and strengthening the capacity of the SWISAs were addressed by this training. "We have projected that this extension service initiative will capacitate the LGUs and farmer-leaders in institutionalizing efficient farm practice that will soon contribute in improving the production and income of rice farmers in the country," expressed Director Montalla.
Maria Royana Milana, Municipal Agriculturist of Mabini, Bohol, shared that the training provided them refresher knowledge on appropriate programming of their technical support plans for the SWIP beneficiaries of the DA. She remarked, "I am very much thankful for this training. I was educated by the resource persons with learning methodologies that are new, innovative, and we can use as an impactful learning approach."
As such, DA's RFO-VI Technical Director for Operations Engr. Jose Albert Barrogo, encouraged the AEW-representatives to propose innovative programs and projects that can further develop their respective areas. "We are expecting that you have the knowledge as well as the responsibility to help us in crafting development plans for the agri-fishery sector. As we prepare the budget plan for the 2024, we are willing to solicit inputs from your respective localities for potential development of irrigation sites that can be assessed and eventually funded by the Department" Director Barrogo imparted .  
The succeeding batches of this training are scheduled on: May and October for the Luzon A and B clusters, respectively; and August for the Mindanao cluster. "In all these undertakings, we will bank on our strong partnerships with local government units, extension workers, farmer-leaders, rural-based organizations, and other development partners in communities to bring vital extension support services to grassroots level" Director Mula concluded.