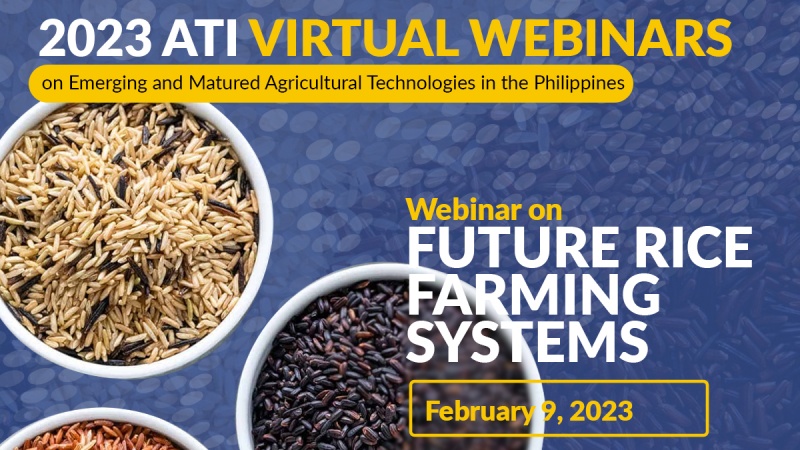 QUEZON CITY, Philippines—Aimed at increasing the adoption of cost-efficient and adaptable agricultural technologies in the country that will contribute in improving the yield and income of farmers and fishers, the Agricultural Training Institute (ATI) recently kicked off its webinar series on "Emerging and Mature Agricultural Technologies". The series' first episode was livestream in ATI's Facebook page last February 9, 2023. It featured the future rice farming systems such as the Palayamanan Plus, and Rice-based Mushroom Production.
Moreover, the webinar series targets to echo different agricultural research developments that will contribute to the farm business operations of local farmers and other stakeholders. 
ATI OIC-Director Remelyn Recoter stressed the importance of innovation in the agriculture and fisheries sector, towards sustaining the viability of farm businesses because of the ever-growing competition in the agricultural landscape around the world. That is why "these initiatives are put into work as part of the agri-fishery extension service programs geared towards sustainability and continuous progress, which will help secure the future of the farming sector," Director Recoter said.
The technologies will be showcased monthly through the speakership from various experts from reputable agricultural development institutions. The succeeding webinars are scheduled as follows:
March 9, 2023: Enhancing the Sustainability of the Informal Soybean Seed Sector
April 13, 2023: Development of Nano-Biosensor Technology in Disease Surveillance and Diagnosis of Economically Important Crops
April 27, 2023: Smarter Technologies for Crop-Water Management
August 10, 2023: Organic Farming as Soil Quality Management Enhancement: An Adaption Strategy to Climate Change and Variability
September 14, 2023: Soybean Variety Development for Higher Yields and Enhanced Functional Properties
November 9, 2023: Pest Surveillance and Early Warning on Rice Production
November 23, 2023: Postharvest Quality and Safety Management of Organically Grown Fruits and Vegetables
These webinars target to reach more than 500 trainers and extension partners of ATI, which are agricultural extension workers, extension service providers, trainers from certified Learning Sites for Agriculture (LSA), farmer-leaders, participants from the ATI network of Training Centers, and other extension service conduits nationwide.
Director Recoter hoped that most of the extension conduits, if not all, can join more of the upcoming trainings and webinars of the Institute in the succeeding years. This is so they can be capacitated in bringing the information to the grassroots level.
"As we are aiming to sustain the global competitiveness among the agri-fishery stakeholders, we are constantly informing our extension service conduits on the latest available technologies and evidence-based practices. This way, the end-users, or the farmers and stakeholders, can opt to adopt what is best for their respective farm businesses," expressed Director Recorter.