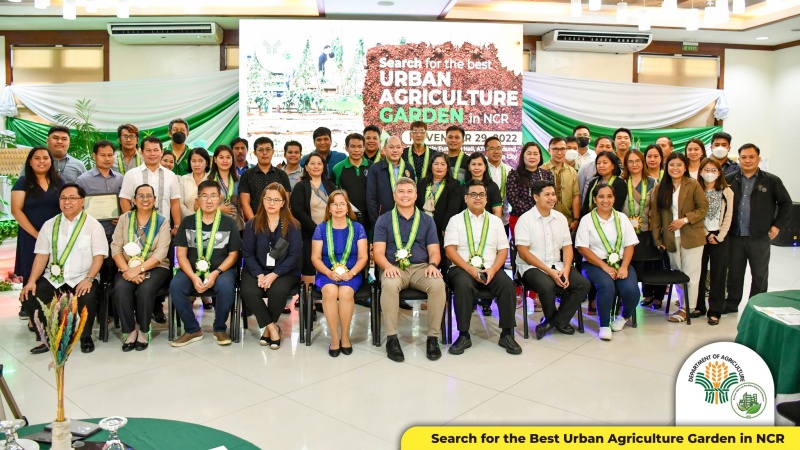 DILIMAN, Quezon City—The Agricultural Training Institute, as one of the Department of Agriculture's (DA) implementing agencies of the National Urban and Peri-Urban Agriculture Program (NUPAP), recently conducted the very first "Search for the Best Urban Agriculture Garden in the National Capital Region". 
This activity aimed to recognize the exemplary performance of the DA-NUPAP urban agriculture garden beneficiaries and partners from several key cities in the metro. These include schools, barangays, homeowners' associations, and other basic subsectors, including the Pantawid Pamilyang Pilipino Program (4Ps) beneficiaries. The initiative was implemented in partnership with the Bureau of Plant Industry, Bureau of Fisheries and Aquatic Resources, Bureau of Animal Industry, Bureau of Agricultural and Fisheries Engineering, and the DA's High Value Crops Development Program. 
There was a total of 34 entries received, in the form of video documentations of the respective garden's sales and cash flow, physical arrangements and structures, visitors' traffic, as well as their notable community engagement strategies in promoting urban agriculture practices. The entries were shortlisted into ten finalists.
Of which, nine are community-based urban agriculture gardens assisted by the ATI. They are: (from Quezon City) the Gulayan sa Paaralan sites of Aurora A. Quezon Elementary School, Commonwealth High School, Old Balara Elementary School, Maligaya Elementary School, Dona Juana Elementary School, and San Diego Elementary School, as well as the sole homeowners'-run Kingspoint Joy of Urban Farming, Inc.; and (from Caloocan City) the Camarin Elementary School, and Mountain Heights High School.
The entries were deliberated by the technical working group of the search, and validated through a field validation held on November 8-9, 2022. Thus, the Camarin Elementary School was hailed as the 1st Placer, followed by the Mountain Heights High School and San Diego Elementary School, as the 2nd and 3rd placers, respectively. The winners shall be given non-monetary incentives through a project proposal amounting to Php100,000 (1st placer); Php50,000 (2nd placer); and Php30,000 (3rd placer).
The 2022 Search for the Best Urban Agriculture Garden awarding ceremony was conducted on November 29, 2022, at the ATI's Rural Development Education Center in this city.