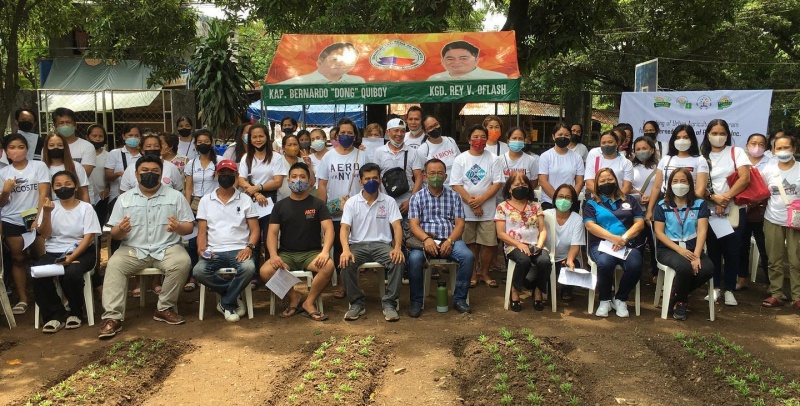 A community-based urban agriculture garden, adjacent to the La Mesa Dam area in Caloocan City, thrives to fulfill its community's dream of securing affordable food supply for the betterment of their residents.
This garden in Pangarap Village, which is managed and maintained by the Concerned Citizens of Pangarap, Inc. (CCPI), was established during the early onset of the COVID19 pandemic in 2020. Then on July 2022, it was recognized and launched as a Gulayan sa Pamayanan site by the Agricultural Training Institute (ATI), as part of the Institute's commitments to the National Urban and Peri-urban Agriculture Program (NUPAP). With the strong support system and partnerships of the CCPI, especially with the Presidential Commission for the Urban Poor (PCUP), they are able to encourage its members to engage themselves in urban gardening. 
Mr. Ronildo A. Palmera, Chairman of CCPI, shared, "This is where we get our additional source of livelihood and food supply. Urban gardening serves as a major aid to our day-to-day food requirements. It teaches our family members—sons, and daughters alike—to be self-sufficient."
At present, the CCPI edible garden caters to soil-based crop production featuring eggplants, pechay, mustasa, ampalaya, ginger, chili, gabi, lettuce, upland kangkong, and herbs. They also have backyard production of chicken, tilapia and hito, ducks and goose. Furthermore, they have a small rabbitry, which is an emerging industry where the rabbit meat (lapan) are utilized for human consumption. 
The CCPI was assisted by various agencies of the DA in setting up simple hydroponics, aquaponics, and other agricultural technologies within their area. Meanwhile, ATI provided capability reinforcements on vegetable seed production, organic concoctions-making, etc. to ensure a sustainable value-chain agriculture in their locality. "The ATI helped the organization, especially when it comes to the right practices in urban gardening. We–the entire community–have become more inspired to continue with our cultivation activities," Mr. Palmera expressed.
They aspire that their community-based garden would become an inspiration to other urban poor communities; to demonstrate that there is potential in urban agriculture. They also hope to prove that sowing one's dreams, especially if it serves the interest of the people, will definitely bear fruit or better outcomes.
"In urban farming, we hope that developments will come on our way, so we can reach out to more people in our community; may our constraints be addressed as soon as possible, with the help of various government and non-government agencies. By that, we can get even better," says Palmera.