QUEZON CITY, Philippines – The Agricultural Training Institute (ATI), in partnership with the Local Government Unit of Quezon City (QC), recently launched the very first Greenhouse Village for MB Farmville at Barangay Payatas.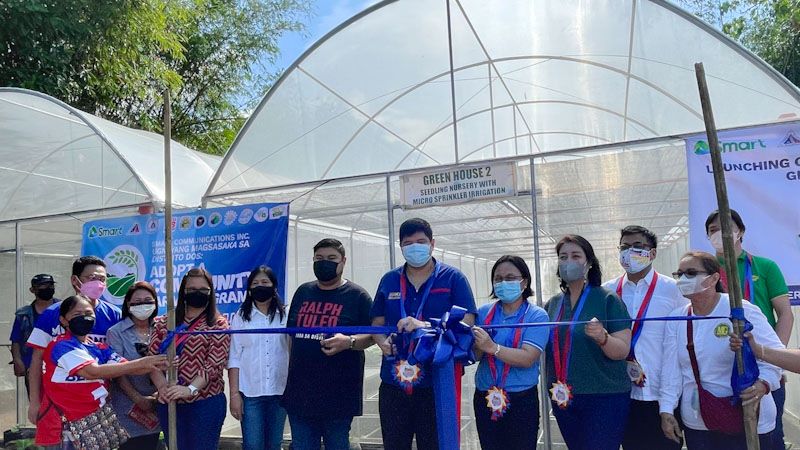 The greenhouse was established to promote the importance of urban agriculture as a source of food, income, and a way to foster community interaction. As the first greenhouse established for the said community, this will serve as the seedlings nursery which will serve all other 16 MB Farmville sites in the city.
Equipped with a drip irrigation system and container gardening set-up, the greenhouse will also be a showroom on different urban farming techniques. Leafy greens like pechay and lettuce, vines like sitaw and squash, and other crops like eggplant, ladyfingers, and peppers will be grown to demonstrate plant production methods under urban setting. The established greenhouse will also be used as training venue, and hands-on demonstration site for future urban farmers.
One of the highlights of the event last March 18, 2022 was the ceremonial ribbon-cutting let by ATI's OIC Deputy Director Antonieta J. Arceo, and Partnerships and Accreditation Division OIC-Chief Nemielynn Pangilinan, together with QC's Councilor Mikey Belmonte, Task Force on Food Security Co-Chairperson Emmanuel Hugh Velasco, Barangay Kagawad Fe Guarin, and SMART Communications representative Andrea Valenzuela.
The initiative was made possible through the collaboration with the Office of Councilor Mikey Belmonte and the Local Government Unit of Quezon City under their GROW-QC Program. Volunteer urban farmers from Barangay Payatas are to care and maintain the crops and greenhouse to ensure continuous supply of home-grown vegetables for the community as well as to provide a ready learning site and showroom for future urban farmers.