Nadia Kristina Ona, a 28-year-old young farmer and entrepreneur, is hoping that more millennials and Gen Zs will give farming a chance and find some important things she found in the field: passion and community.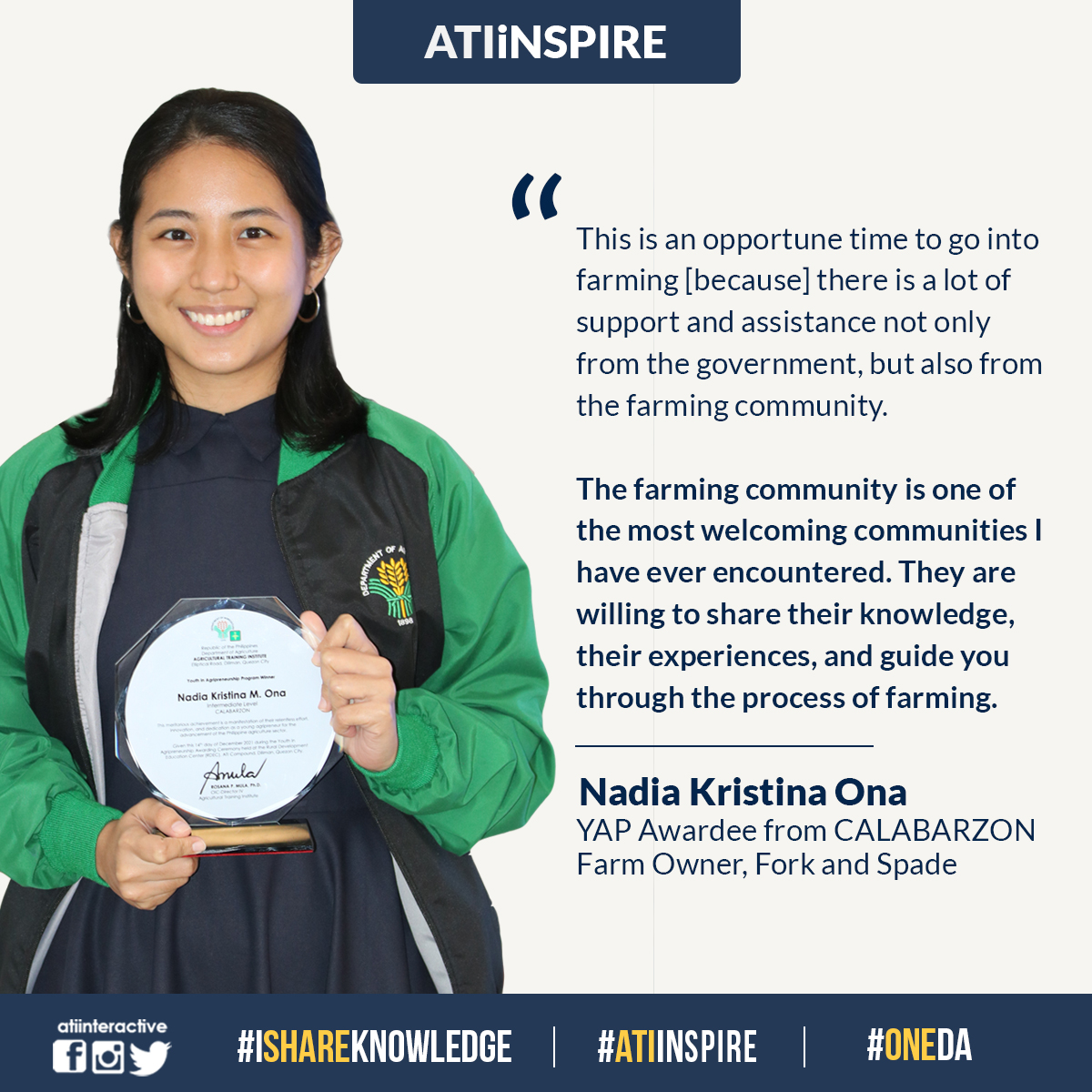 Nadia is one of the participants of the Youth in Agripreneurship Program (YAP) from CALABARZON. She is also one of the 27 winners of the program's business-pitching competition from implementing regions who were granted with financial support for the implementation of their business proposals. The YAP was initiated by the Department of Agriculture (DA) and the Agricultural Training Institute (ATI) to holistically empower the youth into the sector and shape them to be partners for advancement.
Prior to joining the YAP, Nadia was also one of the contenders of DA's Kabataang Agribiz. Since 2021, she has been a full-time farmer and owner of Fork and Spade Farm in Ibaan, Batangas. 
From corporate finance to agriculture
Having pursued a degree in accountancy, Nadia started her professional journey in corporate finance. After more than three years in a financial institution and series of weekend farming with her family, she decided to take a different route – one that her heart has long been yearning for.
The young agripreneur shared in an interview how she first thought about engaging in agriculture. She recounted how she came across an article featuring a former mailman turned cacao farmer.
"During my downtime, while taking my board exam, I read an article about Mr. Grover Rosit, a former mailman who became successful in cacao farming. I don't know what came over me but there was suddenly a spark that led me to think about our idle land in the province and that it was up to us to be good stewards of that land," she narrated.
Likewise, Nadia elaborated how the pandemic opened her eyes to things that are more valuable to her.
She explained, "The pandemic prompted me to reassess my priorities, like how do I want my life to be, and what principles I want to live by, the answers to these questions I found in farming. Being close to nature, family, and being in the presence of people who are genuine, sincere, and generous, foster the passion even further."
Although her family has barely enough knowledge on farming, they supported Nadia's agricultural pursuit.
Going into hydroponics
Fruit trees and livestock are the current commodities at Fork and Spade Farm. Nadia's family is now undertaking some product developments, particularly mulberry juice, leaf tea, and jam. 
The young agripreneur's business proposal, however, focused on hydroponic lettuce production. Currently, she has a simple hydroponic set-up in their farm, which serves as a small research area for her. Calling the project "Humble harvest" by Fork and Spade Farm, she looks at producing more hydroponically grown leafy greens and fruiting vegetables such as bell pepper, tomato and cucumber, among others, in the future. 
For Nadia, the existing commodities in their farm are very seasonal. This is why she ventured into producing cash crops, which can afford a faster turnover for the farm's sustainability. 
Farming community
Nadia immersed herself into various learning opportunities in agriculture. As she participated in different training programs and advisory services of ATI CALABARZON, she has also gained a lot of mentors through the large network of ATI-accredited Learning Sites for Agriculture (LSAs) in the region. She also takes part in the Kapatid Agri Mentor Me Program and other Go Negosyo mentoring sessions.
When asked about her advice for her fellow youth, she said, "This is an opportune time to go into farming [because] there is a lot of support and assistance not only from the government but also from the farming community. The farming community is one of the most welcoming communities I have ever encountered. They are willing to share their knowledge, their experiences and guide you through the process of farming."
"Just be open to the experience, enjoy it and have a learning and growth mindset," she continued.
She also shared that it is within the community where passion is fostered and enthusiasm is contagious.
Challenges and plans 
With all these, and having obtained a National Certificate II on agro-entrepreneurship assessment from the Technical Education and Skills Development Authority, Nadia remained humble and admitted that finding a niche in the sector is not a walk in the park.
For her, finding focus is one of the major challenges in the field. The more she sees the breadth, depth, and endless possibilities in agriculture, the harder it gets for her to set her direction. "Sa lawak ng gusto mong aralin, ang hirap humanap ng focus [dahil] ang broad ng field at ang daming possibilities," she explained.
Nonetheless, she aspires to "pay it forward" when she was asked about her plans in the future. She finds this necessary because a lot of people also helped her grow and get to where she is now. At present, she continues to build knowledge on agriculture and participate in various agribusiness learning and mentoring sessions.
This is Nadia's story of becoming a full-time farmer and belonging in a community of individuals growing together. She hopes that through her journey, she will inspire other young people to see how farming and the community can change the way they live and pursue their passions.