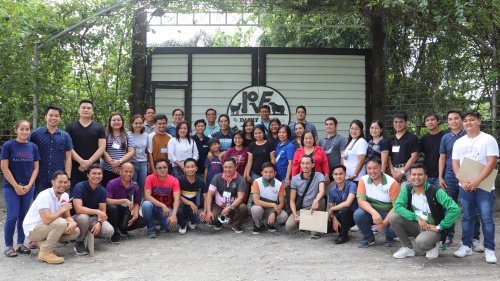 Bacolor, Pampanga – The Agricultural Training Institute (ATI), as the capacity builder of the Department of Agriculture (DA), and one of the Implementing Agencies of the Coconut Farmers and Industry Development Plan (CFIDP), conducted the National Training of Trainers (TOT) on Dairy Farm Operation for Goat on September 26-30, 2022 at the R.O. Valerio Integrated Farm in Bacolor, Pampanga. 
A total of 32 participants from the ATI, Philippine Coconut Authority (PCA), and the DA Regional Field Office (RFO) 4A were trained on the Economics of an Integrated Coconut-Dairy Goat Farm, Forage and Pasture Development, and Dairy Goat Husbandry. Experts from the PCA, National Dairy Authority (NDA), Philippine Carabao Center, and R.O. Valerio Integrated Farm served as resource persons and led the demonstration and hands-on activities.
Likewise, the participants were able to try their hands on the different forage establishment and dairy farm operation practices such as forage development, silage making, hand-milking, bathing and delousing, hoof trimming, and vitamins administration.
The activity aimed to develop a pool resource persons that would train the regional trainers and support farmer-level activities on the integration of coconut and dairy goat farm operations. This is in support to one of the CFIDP's priorities on livestock integration, of dairy goats and cattle in particular, intended to maximize the coconut farms' productivity, profitability, and sustainability. They are expected to re-echo their learnings from the training during the roll-out of the regional TOTs in their respective stations in 2023.
Some participants expressed their gratitude saying, "I really learned a lot from Mr. Randy Valerio – that Dairy Goat Farming is a good business and there's money or profit out of it. This training will really help me as an AEW [agricultural extension worker], and all the learnings I got from this training will be a good help to those coconut farmers that will engage in dairy goat farming," Lou Denise-Marie Somera of DA RFO-4A said.
"I was amazed by this training because [one of] the resource persons is an actual farmer, who, at the same time, is successful in the industry. Napakabigat talaga yung challenge sa dairy [industry] actually. Way back 7 or 8 years ago, 1% lang ang growth or kung nago-grow man siya, kaunti lang pero di talaga nasusustain. Kaya salamat Sir [Valerio] sa eye opener na sinabi mo na ang kambing ay di dapat sa karne ang kita kundi sa gatas because it can be a source of a daily income for farmers," Mr. Allen Goroy of ATI Regional Training Center 8 shared.
The activity was carried out by the Institute's Career Development and Management Division, in collaboration with the NDA and the R.O. Valerio Integrated Farm, a certified Learning Site for Agriculture of the ATI.