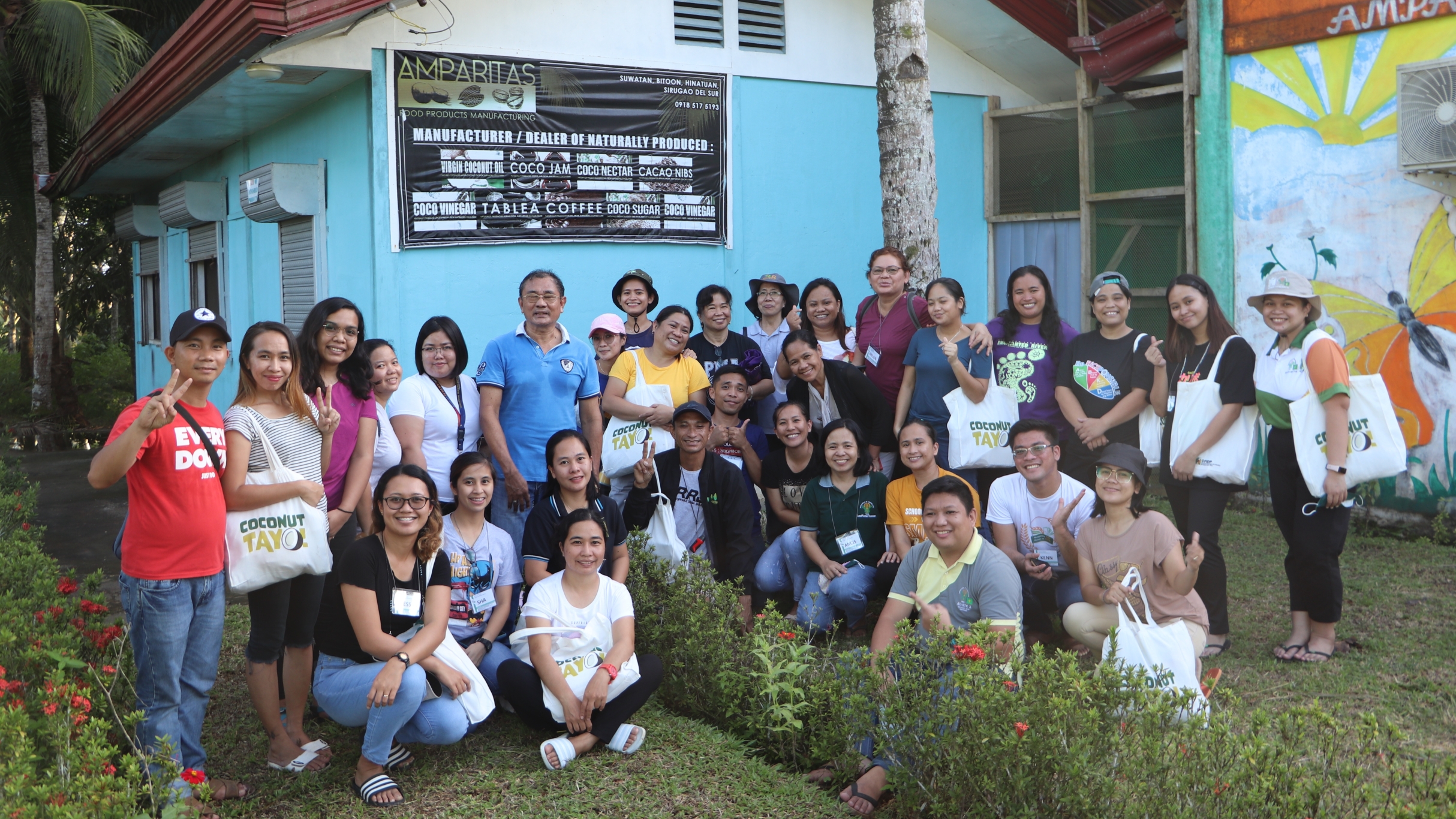 HINATUAN, Surigao del Sur—The Agricultural Training Institute (ATI), as the capacity builder of the Department of Agriculture (DA) and one of the implementing agencies of the Coconut Farmers and Industry Development Plan (CFIDP), conducted the National Training of Trainers on the Production of Coconut Products and By-Products on November 21-30, 2022 at the Amparitas Integrated Nature Farm.
A total of 31 participants from the ATI, Philippine Coconut Authority (PCA), and the DA Regional Field Offices (RFO) were trained on the Opportunities in Coconut Production; Good Agricultural Practices on Coconut; Good Manufacturing Practices on Coconut; Coconut Product and By-Product Processing, which includes food and non-food products; and Break-even Analysis. Experts and practitioners from Amparitas Integrated Nature farm, an ATI-certified Learning Site for Agriculture, served as resource persons, and led the demonstration and hands-on activities.
The participants were able to try processing different coconut food products such as virgin coconut oil and its by-products; products derived from the coconut sap; and non-food products made of coconut coir. On the other hand, they also exercised their learnings on break-even analysis for single and multiple products.
The activity aimed to develop a pool resource persons that would train the regional trainers and support farmer-level activities on the value-adding of coconut, maximizing products and by-products which can be derived from it. They are expected to re-echo their learnings from the training during the roll-out of the regional TOTs in their respective stations in 2023.
Participants expressed their gratitude saying, "We are so grateful that we encounter someone like Engr. Ramon Barbosa (Amparitas) who is very generous in sharing ideas based on his experiences. The technologies he introduced are applicable and easy to replicate by our stakeholders. The hands-on activities are very useful, and it showed that several products can be processed from one nut. The highlight for me is the break-even analysis, since we can use it to provide guidance on the entrepreneurial side for coconut value-adding. We are able to compute for the expected profit based on the capital," Ms. Jeanmay Estifane of PCA Region 7 said.
The activity was carried out by the Institute's Career Development and Management Division, with the support of the ATI Regional Training Center in Caraga.