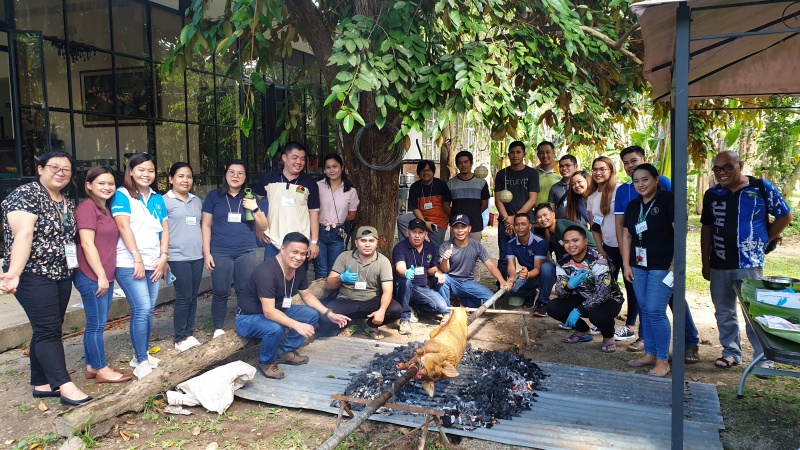 SAN JUAN, Batangas—The Agricultural Training Institute (ATI), through its Career Development and Management Division (CDMD), successfully conducted a five-day Training of Trainers (TOT) on "Native Pig Production and Management" on November 7-11, 2022 at Don Leon Nature Farms, Inc.–an ATI accredited learning site in CALABARZON.
Twenty-four (24) technical staff from the Philippine Coconut Authority (PCA), Department of Agriculture-Regional Field Office 4A, and ATI Regional Training Centers (ATI-RTCs) graduated in the said TOT.
The activity aimed to develop a pool of resource persons (RPs)that would train the regional trainers, and support farmer-level activities on the integration of coconut and native pig husbandry. This is in support to the coconut-native livestock integration, one of the priorities under the Coconut Farmers and Industry Development Plan (CFIDP). This integration is intended to maximize the coconut farms' productivity, profitability, and sustainability.
"I hope that all the graduates/trainers will assimilate the inputs which shared by our competent RPs because the same is expected to us when we share these to the agricultural extension workers in our respective regions. Ultimately, what we are aiming for the coconut farmers of the country is for them to achieve quality life in the future," Mr. Antonio E. Cadalin, a participant from ATI-RTC 8 said.
The RPs for the training were from PCA-Region 4, and Bureau of Animal Industry-National Swine and Poultry Research and Development Center (BAI-NSPRDC). The topics discussed include economic opportunities in coconut-native pig integration, native pig strains in the Philippines, management practices, breeding, biosecurity, processing and marketing, among others. Don Leon Nature Farms, Inc. likewise served as a demonstration site for native pig vaccination, castration, and lechon-making.